"Mountain Ecosystems and Resource Management" Summer Field School
Details

Published: Tuesday, 10 August 2021 14:11
Written by Elaman Mambetaliyev
Hits: 1107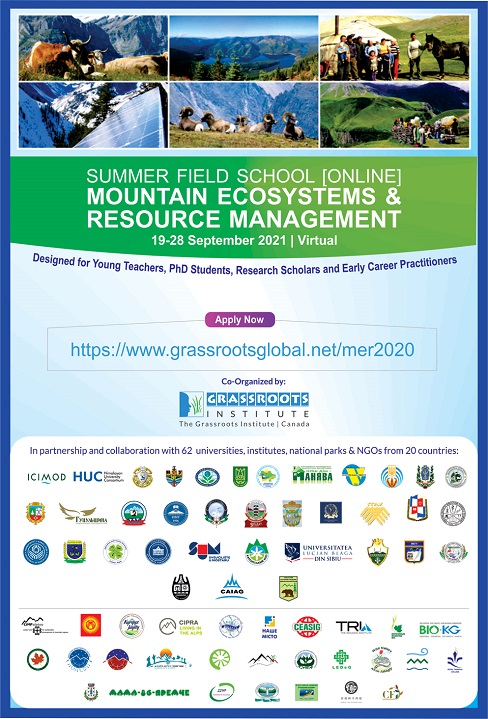 The "Mountain Ecosystems and Resource Management" Summer Field School will be held September 19-28, 2021.
To develop the potential of future leaders (researchers, students, and scientists), we are announcing a 10-day international SFC MERM 2021 or "Summer Field School [online] on Mountain Ecosystems and Resource Management" September 19-28, 2021 in Ukraine.
Mountain natural ecosystems are critical to humanity's existence on our planet. The proposed program covers the contexts of the mountain regions of the world, i.e. Himalayas, Alps, Andes, Rocky Mountains, Karakorum, Pamir, Carpathians, Fuji, Caucasus, etc. This program will be held for 300-400 international participants in English, covering current relevant topics in the following broad areas:
(1) Mountain ecosystems;
(2) Freshwater ecosystems;
(3) Forest ecology;
(4) Grassland ecosystems;
(5) Biodiversity Conservation;
(6) Wildlife management;
(7) Ecotourism;
(8) Interaction between parks and people;
(9) Cooperative resource management;
(10) Watershed management;
(11) Sustainable agriculture and organic farming;
(12) Agro-biodiversity;
(13) Transhumance and ranching;
(14) Livestock production;
(15) Livelihoods in the mountains;
(16) Conventions in the mountains;
(17) SDGs and mountains;
(18) Sustainable Mountain Development.
More than 60 organizations and institutions are partners and collaborators of the school, including CAIAG, whose experts will conduct some of the lectures.
More information about the program is available at: www.grassrootsglobal.net/mer2020
Prepared on our own materials and those of the summer school.