Glaciology
Details

Published: Thursday, 25 May 2017 20:22
Written by Sergei Barkalov
Hits: 6918
Glaciology
Research objects: glaciers, snow cover.
Glaciers
Main information on glaciers of Kyrgyzstan and adjacent countries can be found in the Glaciers Catalog of the USSR (1968-1982), more information is available on the map "The present glaciation" with a scale of 1:500000 (from the series "Natural resources of Kyrgyz SSR"), which was created on the basis of satellite photos (1977-1980). This information was rarely updated within the last years and only for some of the glaciers. That is why it is necessary to provide large-scale research on contemporary dynamics of glaciers, their balance changes in conditions of current climate changes and their future forecast. The solution of these problems is possible using remote sensing methods. Besides this, important tasks are research on ice isotope compound, and mineral, chemical and spore - blossom dust analysis for retrospective assessment of climate past changes. It is not only planned to conduct direct metering of glaciers, but also to observe the glaciers with Global Positioning Systems, to analyze ice samples and to make use of remote sensing methods, in particular the radio-locating method.
As a result it is supposed to create a database on the characteristics of glaciers and a digital map of Kyrgyzstan's glaciers in GIS environment. On the basis of the research results on the glaciers core we are planning to develop a model of climate change in Central Asia in Holocene. Besides this, it is planned to define patterns of glacier's changes more precisely in time and space.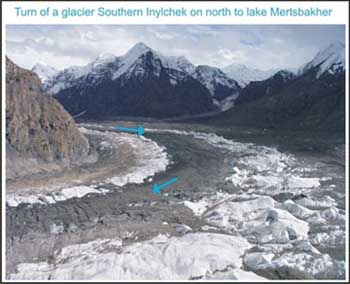 Snow cover
The study of snow cover formation patterns plays a great role in the water balance assessment of the region and has an important practical significance for agriculture.
It is supposed to reveal the laws of snow cover formation and its variability scales in time and space. The study of snow cover will be conducted not only by direct field measurements, but also by methods of remote sensing.
As a result it is supposed to compile a database on parameters of snow cover and to create digital maps in GIS environment for the average capacity of snow cover and for the dates of snow cover on the territory of Kyrgyzstan.